If you are concerned about troubleshooting FoodSaver vacuum sealers, you are in the right article. We will talk about this topic here. It is vital to take care of and maintain your vacuum sealer.
If your vacuum sealer is reliable and versatile, it will be able to preserve most types of veggie, meat, and fruit. If you vacuum your foods, they can last 5x longer compared to normal.
However, you need to give your device the right care and maintenance. In this post, we will show you the solutions for the FoodSaver vacuum sealer.
How to Fix Your FoodSaver Vacuum Sealer?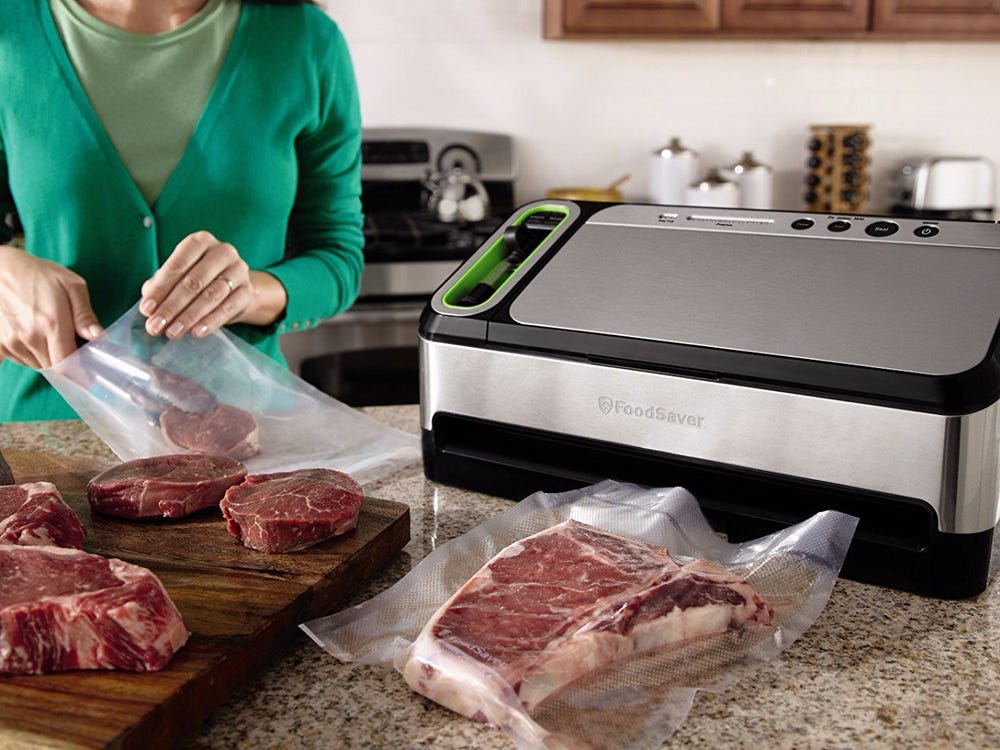 Suction Malfunctions
The powerful suction of the FoodSaver allows it to avoid holes and wrinkles in your bags and pouches. Also, this factor is to suck out the moisture and air.
Therefore, your food items can stay fresh for a longer time. Sometimes, it arises and leads to bacterial growth. Here are some solutions you can do:
The latch should be closed fully. Also, it should be free of debris. You can remove dirt and debris by using a damp cloth.
Open the lid and check if the gaskets are free of debris. They also should be in place. If there is debris or dirt present, you need to remove them and clean your gaskets.
It is also essential to detach the accessory hose before you begin your machine.
Sealing Malfunctions
You may get frustrated because of sealing malfunctions. Your vacuum sealer will not seal well. Here are some solutions to this problem:
The first way is to rotate the bag at an angle of 90 degrees. If the bags or the pouch has textured or ridges, you should let the pouch run perpendicular with a smooth facing upwards. Besides, you should also stretch the material until it becomes flat. After that, the rim needs to be curled downward.
You need to have three inches of additional space between your food items and the sealer. If there is liquid, freeze the sealing bag before you vacuum. Besides, the malfunctions may be due to some models not sealing liquid-based items. You will have to pay for repair fees. That is why you need to check the customer reviews before getting any vacuum sealer. This step can let you know if the model can seal these food items.
It is also important to check the gasket and seal bar for debris. If there is debris, it is essential to use a damp cloth to clean them. If the vacuum is damp during the process, you have to pull out the profile. After that, use a cloth to dry it.
No Power
Sometimes, your device doesn't activate. Let's look at below some of our troubleshooting solutions for this case:
Before you try anything, it is important to check the outlet. Unplug and replug the machine cord. If you notice nothing occurs, you can plug a different appliance into it. If the other one works, you can also try something else. On the contrary, the other appliance doesn't operate, try a different outlet.
You can find batteries in many portable models out there. When charging, the LED indicator light should work. Once you see it doesn't turn on, your device may not be charging. Then, you have to jiggle the battery until this light turns on. Another way is to buy a new one for your device.
Conclusion
FoodSaver vacuum sealers have sturdy, unique, and attractive designs. They are sure to give you years of reliable models. However, they may still have malfunctioned.
In this post, we have just mentioned above some common issues you may face when using a FoodSaver appliance. At the same time, we also let you know how to fix them. Hopefully, they are useful for you.